--> Diese Seite auf Deutsch



Halle 9, C39/31 (Rheinland-Pfalz-Stand, Fachhochschule Kaiserslautern/Zweibrücken)
Introducing KNOPPIX version 5.0
The KNOPPIX 5.0 Live DVD contains some major changes in the unionfs-based file system, new hardware detection and autoconfiguration, and a more "genuine Debian" oriented selection of packages. Apart from this, the harddisk install option ("knoppix-installer") has been extended by Martin Öhler, based on the work of Fabian Franz, featuring a "live update" of specific packages from a new version of the live DVD or CD.
The first release of Knoppix 5.0 is exclusively available as a free pressed DVD on CeBIT, at the KNOPPER.NET booth (University of applied sciences Zweibrücken, Hall 9, booth C39/31) and at the Heise booth (Hall 5, E38). Apart from CeBIT, this version cab be ordered from www.emedia.de. The pressing of the CeBIT KNOPPIX DVDs has been sponsored, like in the past years, by the Heise publishing company.
You can find more information about "KNOPPIX @ CeBIT" at the Heise Newsticker (german text) .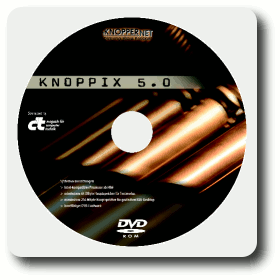 What's new:
Linux Kernel 2.6.15.4
Debian (testing/unstable)
Xorg Version 6.9
udev+hwsetup for automatic hardware detection
KDE 3.5.1, GNOME 2.12 from Debian/unstable
OpenOffice 2.0.1 (german+english)
transparent write access for NTFS partitions (libntfs+fuse)
new knoppix-installer now also with the possibility to update existing installations of Knoppix
Many Updates...
Roadmap: Earliest date 2 weeks after CeBIT, the CD edition of KNOPPIX 5.0 should be ready and will be available for download, together wih the DVD version, from the usual mirrors.
Talks at CeBIT 2006
Knopper.Net is not responsible for the content of external web pages